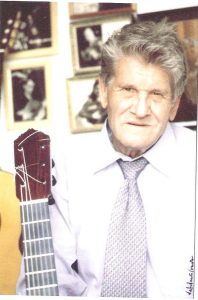 Gerundino Fernández was considered as one of the greatest Spanish builders of guitars throughout the 20th century.
The beauty and finish of the instruments from his hands deserved several national and international awards, but three were especially proud of the brilliant craftsman, the First Prize of the Festival International de Guitarreros de Ronda, Malaga in 1978 and First Prize and Award for Best Acoustics at the 4th International Unesco Contest of Master Guitarists convened worldwide in Paris in October 1988.
Delicacy and harmony in your trim, accessories and ornamental pieces; Lightness and quality in the woods used and, in particular, the extraordinary sonority that characterized his guitars made the most famous flamenco concertists and guitarists to dispute their instrumental jewels.
. His guitars have gone through the best stages of the world with flamenco professionals and soloists such as:
  Raimundo Amador,     Paco de Lucía, Paco Peña, Tomatito, Pedro Bacán Paco del Gastor, José Luis Postigo, Vicente Amigo, Juan Martín, Chaparro de Malaga.